How to Cost Effectively Supplement Your Municipal Water Treatment
It's Time to Toss Your Tap
We've already informed you about the modern regression of water safety in the tri-state area. New York and New Jersey's water supplies contain some serious contaminants, and it may put your health at risk to drink unfiltered tap water. So what can you do to reduce your exposure to chemical contaminants without breaking the bank? Here's what the market has to offer:
Alternative #1: Bottled Water
Of course, it may seem like the easiest way to avoid contaminated tap water is to drink bottled water. Whether you buy cases of Poland Spring or use a jug-sourced water cooler, you may think you've found a cost-effective alternative to drinking from your tap. But in fact, drinking packaged water comes with a cost all of its own.
Why It Hurts Your Wallet:

No matter how great a deal you find at your local Costco, continually buying cases or jugs of water to quench your thirst may not be cost-effective in the long run. Experts estimate that the average American family spends

hundreds of dollars per year

in bottled water expenses, and for companies and businesses with many more mouths to fill, this cost can quickly escalate.

Why It May Risk Your Health:

Recent investigations into the bottled water industry reveal that packaged water isn't always in the clear. For example, Keurig Dr Pepper

recently pulled its

mineral spring

water off shelves for failing to meet FDA bottled water quality standards, and it turns out that Poland Spring's famous natural water source

ran dry nearly 50 years ago.

F

or

a more extensive analysis on bottled water safety, click here.
Alternative #2: Water Purification Systems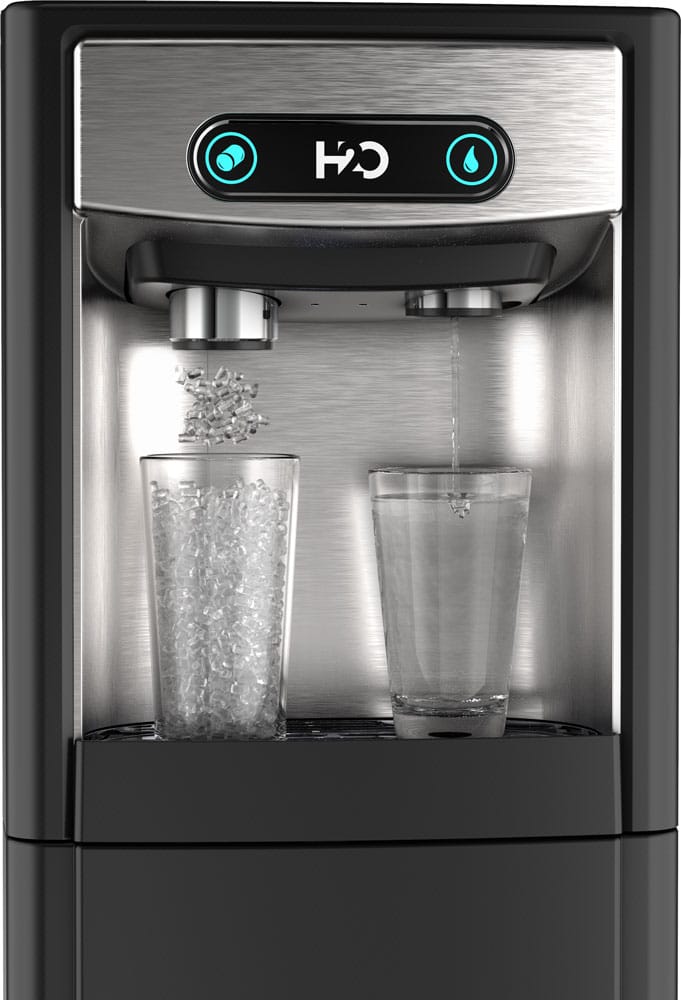 The best way to avoid contaminated water is to use a certified water filtration or purification device. That being said, a host of these devices are currently offered on the market, and trying to deduce which one is right for you may seem overwhelming. Here are the main things you need to know:
POU vs. POE Filters: Water filtration systems generally fall under one of two categories: Point-of-Use or Point-of-Entry.
POE filters (those odd mechanisms underneath the sink that perhaps you've always wondered about) connect to a tap source to treat all of the water used in a single home or building.
As a cheaper, more easily maintained alternative, POU systems treat the water coming directly from the tap to which they are connected. You can buy or lease a countertop POU system like our Voyager model, or a standalone filtration system like the Endeavor. Whichever mechanism you choose, these filtration systems generally prove safer and more cost-effective than drinking tap or bottled water.
If you do choose to invest in a POU purification system, there is a wide variety of options within that category itself. Depending on your needs, you might want a higher capacity dispenser or a system with various temperature options. That's why our systems are divided into 6 levels based on their dispensing capacities, and our representatives work with each client to determine which service plan is best for their needs. Click here to learn more about our plans, or sign up for our 7 day free trial to try it for yourself.
Alternative #3: Cut Off Contamination at the Source
At this point, we've informed you about the dangers of bottled water to both you and the environment. We've also managed to plug our product while telling you about the need to purify your water (which truly is necessary). But what if we didn't need a solution at all? What if we were able to keep our water clean and safe for drinking from the get-go? It is possible for tap water to be clean enough to drink, and most of the contamination we face today simply comes from unregulated waste management as many manufacturers produce their products. So rather than simply expanding the technology available to purify already contaminated water, we should aim to cut off water contamination at its source.
Here's a quick overview of some of the primary contamination sources:
Manufacturers improperly disposing of waste

Sediment and chemicals leaching into groundwater as a result of various drilling processes
Toxic fluid trickling into groundwater through poorly managed landfills
The technology and resources to properly deal with waste exist, but the public pressure to utilize these tools is largely absent. What can you do? Stay informed, share information with your friends and social networks, call up your local government representative and ask them about the steps they're taking to ensure your water's safety, and in the meantime, get yourself a proper water cooler.
7 Day Risk Free Trial
New York and Jersey's top companies trust us to protect their employees by firewalling their water. Experience why we are the highest rated water service provider in the tri-state area at no charge.
Once you've submitted your trial request, one of our specialists will contact you to confirm details and schedule installation!
Have you ever tasted sparkling water that's been purified down to 0.01 microns, infused with over 20 minerals, antioxidants, and electrolytes, chilled with IceBank technology, and carbonated with bubbles so small that the texture can only be described as silky smooth? This water dispenser does all that and more.
Our Level 1 membership plan provides an ultra affordable solution with excellent value for small organizations. Service includes an Endeavor water dispenser and our waterREBORN+ multi-phase filtration technology.
Treat your employees to crunch away their day with the ultra popular Chewblet ice that has been purified and enhanced by our waterREBORN multi-phase technology. Included free with our Level 4 membership.