Here are some common questions about

Drink Meta

.
Will this change our water bill at all?
No.
In New York, New Jersey, and Connecticut, 760 gallons costs $3.60. For perspective, you consume more water washing your hands or flushing the toilet.
How much does installation cost?
At H2O, installation is free of charge. We cover the cost of installation so that you don't have to.
Our Installation Costs
Appliance Delivery
$90 – $130
Installation Labor
$240 – $640
Plumbing Fittings
$20 – $150
Water Line & Other Supplies
$15 – $60
Cleanup Labor
$25 -$35
Professional Plumber
Services (situational)
$250 – $450
Old Jug Disposal
$20 – $25

AVERAGE INSTALLATION
$235
YOUR COST
$0
Why are there different sizes and prices?
Our packages are based on consumption. All of our systems exhibit excellent water quality, but the size of the unit determines how much water can be dispensed within a small amount of time. The larger the system, the larger the reservoir containing water. Even though the systems replenish the reservoirs immediately upon a cup being filled, if multiple people are drinking from the cooler in a short amount of time then the supply can deplete before the system has a chance to refill it. Choosing the right unit is dependent on identifying your necessary service capacity.
How is my price determined?
Our pricing is simple. The monthly cost of your plan includes delivery, installation, the purification system, the dispenser hardware, support, maintenance, repairs, filter changes (to plan capacity), replacements, and relocations.
As long as you pay on time, there are only two other charges that may factor into your overall cost.
Advanced Features
We do offer a few optional advanced features. Unlike included premium features, the advanced features cost an additional fee with some or all plans. On the Plans & Pricing page, you can see the included features (green) and the features that come at an additional cost in (blue) below. On the individual plan pages, they are listed as optional (turquoise).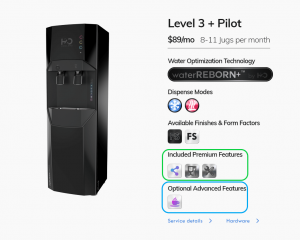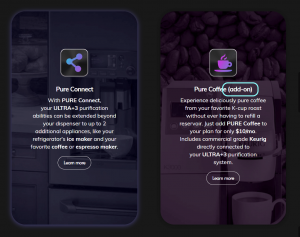 Exceeding Plan Capacity
We cannot emphasize enough how important it is to choose a plan with sufficient capacity for your organization. If you choose a plan with an insufficient capacity and end up requiring unscheduled maintenance and/or filter changes, you can quickly rack up additional charges for each visit that could easily exceed the cost of the proper plan. Speak to our team experts before deciding on a plan in order to choose what's right for you.
How much time does it take to install the system?
It typically takes between 20 and 30 minutes to install a system. It is a non-intrusive process and our technicians are experts in their respective fields. They are familiar with busy offices and can easily stay out of your way so as not to interrupt or distract your employees.
Do we have to be close to a water source?
No. We can install a system up to 1,000 feet from where your local water source is. This is 1,000 feet in any direction (up a floor, down a floor etc.).
Do you have to drill any holes?
Not necessarily. We do try to hide the tube as effectively as possible, and sometimes this requires drilling a small quarter inch hole to snake the tube. However, this is not always mandatory, and for the free-trial, we can avoid this so that you can ensure you love the system before making a final decision. Once you decide you'd like to keep it, we can come back and do the full cosmetic install. Keep in mind that even if we need to drill a hole, it is extremely typical and there is no major plumbing or construction.
Water Quality & Purification
How do I pay my bill?
You can pay via check once you receive your invoice each month, or we can help you set up auto-pay. You can set up payments on a quaterly, semi-annual, or annual basis.
When will I be billed?
You will be billed on the first of each month.
What happens if our office changes location?
The cost of relocating your systems is always included with your membership plan.
How often do you change the filters?
Filter are changed as needed, but are normally replaced between 8-14 months pending usage.
Do I have to pay for filter changes or repairs?
Filter changes, repairs, and any maintenance, service, parts, or labor needs, are always included with your monthly payment.
When do I get my free upgrade?
As technology changes and systems are upgraded, you will be notified by your representative as soon as possible.
Why should I go with you when I could just buy a system myself?
Besides for the fact that systems of this caliber are not available outside of an authorized vendor, purchasing the system yourself would cost you significantly more time and money than purchasing it through a membership plan. After installing the system, which is a process best left in the hands of specifically trained technicians, it needs to be maintained, cleaned and repaired. The filters need to be delivered, changed and installed, and this is excluding any issues you are likely to face if you attempted installation on your own. Additionally, changing the filters yourself would add up to about $1000 a year in the cost of the filters alone – not including the cost of the machine and any other expenses you might run in to. Because we routinely manufacture and purchase our equipment in bulk, we are able to reflect those savings in the prices and amenities we offer to our customers. Free installation, free filters and replacement, free service calls, free maintenance, free repairs, free relocation, and personalized customer care are all included with the most basic membership plan we offer.
Still need help? Send us a note!