Safety First. Hands-free.
We've always firewalled the water you drink. Now, we protect your hands too. Maintain a safe work environment with our new hands-free dispensing pedals.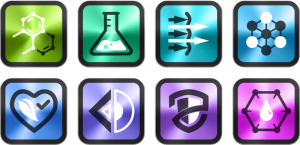 waterREBORN Technology
Even beyond the delicious taste, our priority is always your safety first. That's why we use advanced membrane technology and natural fortifying minerals to protect your water.
Steps 1 + 7 : Reset & Polish.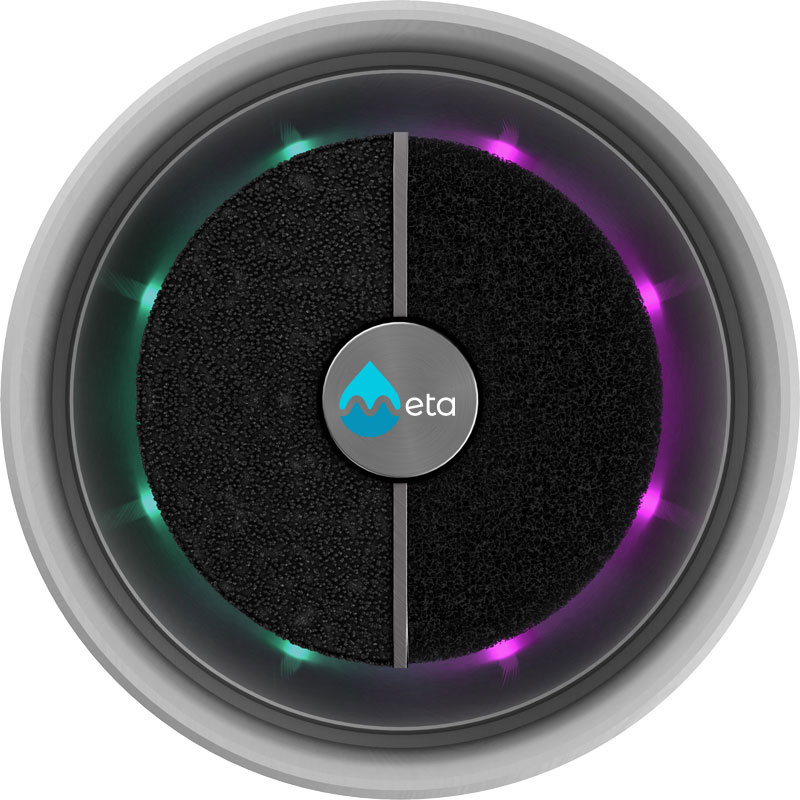 We start and end with organic, coconut-based carbon block scrubs. In addition to significantly improving taste, carbon filters excel at capturing bacteria, organic contaminants, and large to medium sized particulates.
Step 2: Reboot / Nano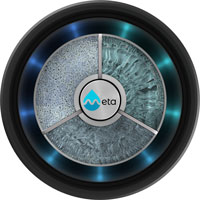 Next, we reboot your water back to its most pure state through the use of advanced membranes. Our standard systems use nanofiltration with a pore size of ~0.001 microns, and our waterREBORN+ systems feature a reverse osmosis membrane with a pore size of only ~0.0001 microns.
Step 3: Restructure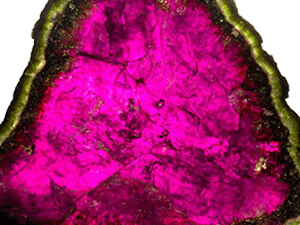 You need water to hydrate you and for transport (nutrients in & toxins out). The hyrdogen atoms in water have their electrons stolen frequently, which leads to the water molecules clumping together, compromising its ability to hydrate and act as a solvent. We use minerals, like tourmaline and quartz, that emit infrared rays, to restore the lost electrons.
Step 4: Restore & Enrich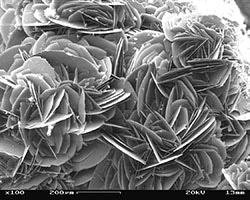 The only delivery method more efficient than drinking pre-dissolved nutrients is through an IV. This phase offers a beautiful union of homeopathy and technology where we inject your water with over twenty antioxidants, electrolytes, minerals, and other nutrients, this phase gives you a boost with every sip.
Step 5: pH Rebalance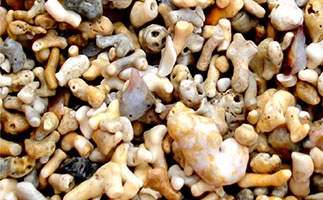 The effects of your water's pH and alkalinity levels are not simply aesthetic. Acidic water can leech important minerals like calcium from your body, negatively impacting bone density and lowering your blood's pH to toxic levels. we use minerals like quartz and coral sand to de-acidify your water by boosting its alkalinity.
Step 6: Resilience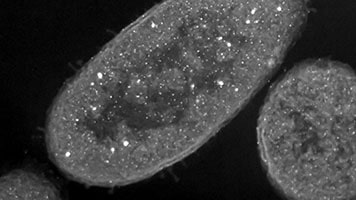 Using silver, zeolite, and zeo z1 to we're able to fortify your water and reinforce your immune system - equipping it with antitoxins and silver ions, some of the strongest antibacterial and antiviral agents in existence.
Full service with a flat price.

Full service with a flat price.
Why do we have almost double all of our competitors 5 star reviews combined? Because our service covers everything for a modest flat monthly rate, starting at only $58. It's like a surprise free upgrade to first class. Are you really going to stay in economy?
| | | | | | | |
| --- | --- | --- | --- | --- | --- | --- |
| Level 1 | Level 2 | Level 3 | Level 4 | Level 5 | Level 6 | Signature |
| 1 - 5 users | 5 - 8 users | 8 - 11 users | 11 - 15 users | 15 - 20 users | 20 - 25 users | 26 + users |
| $58/mo | $72/mo | $89/mo | $129/mo | $149/mo | $199/mo | $249+/mo |
| Water | Water | Water Connect | Water Connect Ice | Water Connect Ice | Water Connect Sparkling Coffee | Custom Solutions |
The best hardware in the biz.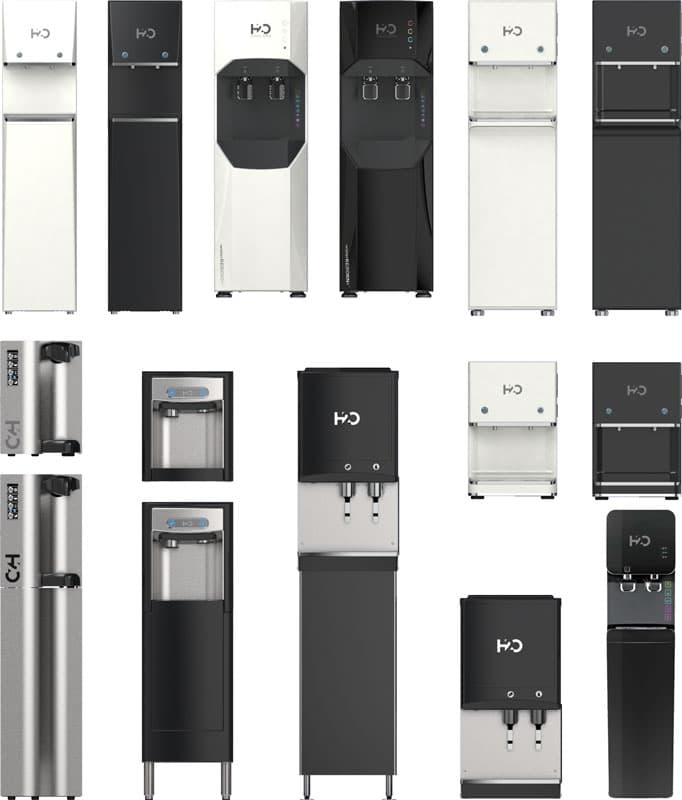 The best hardware in the biz.
It's time for your old water cooler to take it's rightful place next to the well and hand pump. Our systems use the latest technology, and visually reflect the success of the companies that use them.

Your Convenience
Deserves Consideration
We know switching sounds like a hassle. Here are 3 ways we make sure that isn't the case.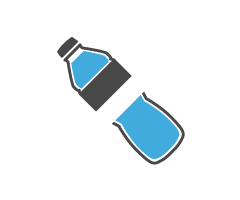 Bottle-free
No more jug lugging, case carrying, or bottles bereft of their owners laying all over the place.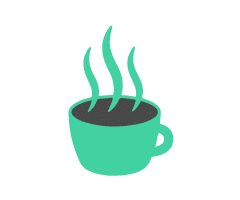 Coffee on us
Get one year of superior meta-coffee service on us. Includes our ConstantFlow system, so you'll never have to refill the reservoir again.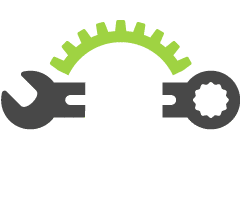 Sign up now, and we'll waive your installation fee (average value of of $425). For more details, watch our
installation video
.
Google doesn't let you keep secrets, and we love it! Compare us to our competition, and discover why we're #1. At the time this was written we have a 262 reviews (almost double all of our competition combined) and an average rating of 4.8 stars.
We make room for delicious.
Our pure water technology focuses on more than just removing contaminants. We optimize your water's pH/alkaline and mineral levels, and it's ability to ability to pair with your favorite beverages, like coffees, teas, and fruit infusions.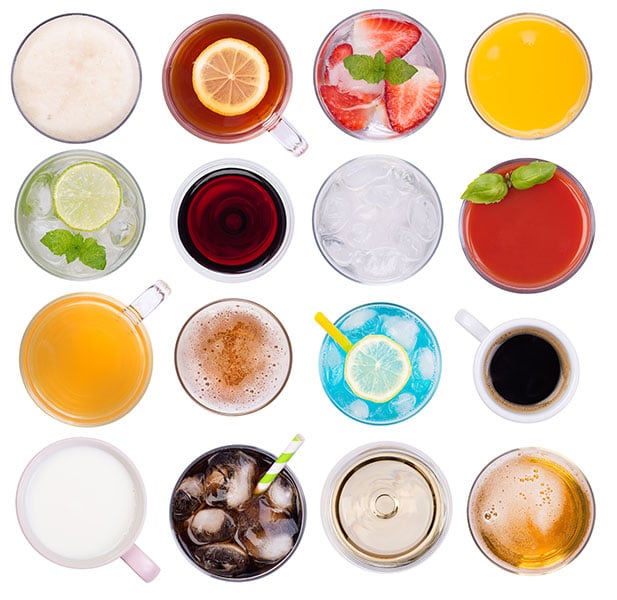 Your support system
If you've read our reviews, you already know what our clients say that we deliver:
Friendly local people (with complimentary Brooklyn accents) who answer your phone calls and care.
Professional and competent technicians who show up promptly, and clean up when they're done.
Last but not least, no surcharges.
Drink Meta
⏵1401 Ocean Ave. Ste 1A
Brooklyn, NY 11230
⏵go@drink-meta.com
Consider the Savings.
Companies that switch typically save between $144 and $1,812 every year. Get your Price Comparison below.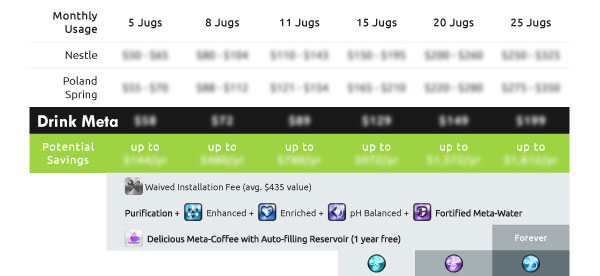 Consider the Savings.
Companies that switch typically save between $144 and $1,812 every year. Get your Price Comparison below.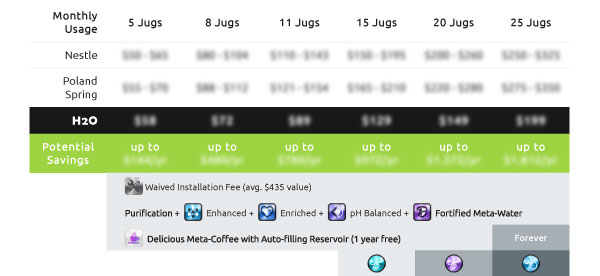 Start your free trial now